We're the world's largest streaming platform for padel
Padelgo.tv takes padel to the next level - drawing players to any arena or club that offers padelgo.tv. Club owners can monetize and gain revenue using padelgo.tv.
And it's free.
Free streaming for your customers
sentiment_very_satisfied
100% free streaming
Your customers can enjoy free streaming at your club. Free for the customer. Free for you. No strings attached.
qr_code_scanner
It's super-easy
It's super-easy to start a stream. Your customers simply scan the QR-code by the court entrance to start the stream. They can add score to the stream, tag their friends and create highlights.
important_devices
Stream scoreboard
Your customers can add a scoreboard to the stream and manage it easily directly from their smartphone.
handyman
We take care of everything
When you decide to go with Padelgo.tv we'll do all the work for you to make sure your customers get the best streaming experience on the market. Contact us today and you'll be running Padelgo.tv at your club in no-time!
Schedule streams and events with Padelgo Studio
live_tv
Schedule streams
Schedule streams for events, competitions, local division games and much more ahead of time.
event
Schedule events
Schedule and promote your events at your club.
mic
Stream competitions with commentators
Hosting a large tournament or have an invitational where you want to add commentators to the stream? No problem! It's easy to set-up in Padelgo Studio.
Showcase & monetize your club with ArenaTV
star
Showcase your club
Showcase the latest streams, highlights, tournaments on your local signage- or TV-screens at your club. When customers are at your club they have the opportunity to see the latest and most popular streams and highlights from themselves, friends and family.
paid
Monetize
You're free to sell ad-space for your local sponsors on ArenaTV where they have the opportunity to shine together with your local club streams, competitions and highlights.
celebration
100% free for you to use
We don't charge you a dime to use ArenaTV. If you sell ad-space on ArenaTV we will give you the absolute majority of the revenue — a solid win-win! Want to get started with ArenaTV? Contact us!
Padelgo.tv in the media
star
Storsatsning för streamad padel / padelfeber.se
Streamad padel blir bara större och allt bättre. Nu kommer en ny storsatsning från Skåne där fyra personer lämnat sina jobb för något de tror stenhårt på.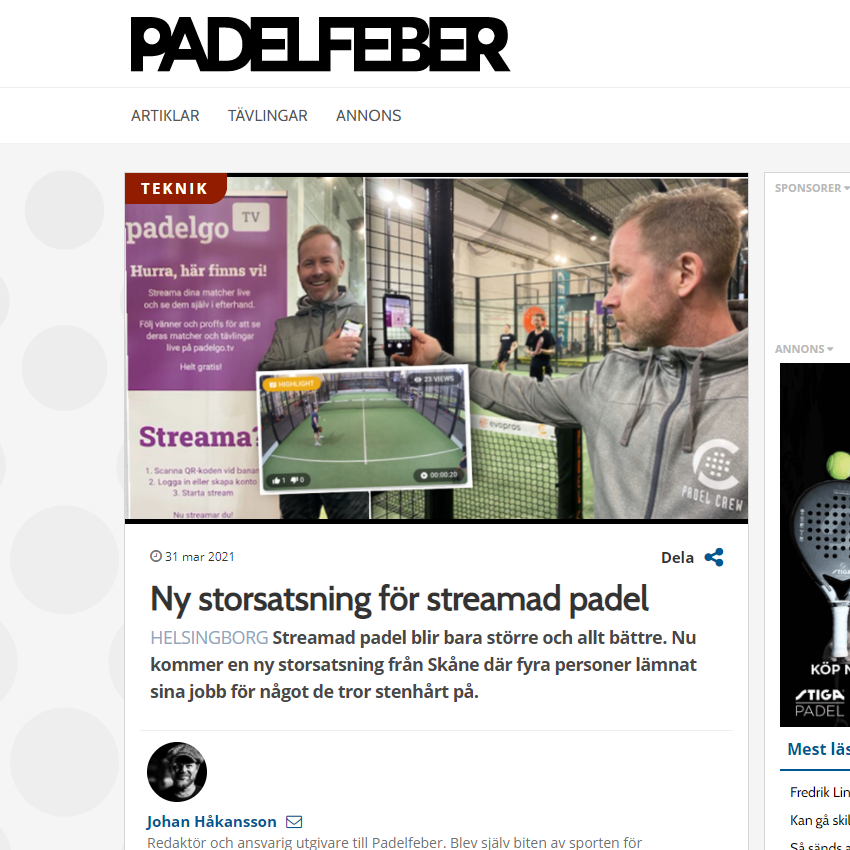 star
Nya streamingtjänsten för alla padelspelare och tränare — helt gratis / padeldirekt.se
Möjlighet att streama sina egna padelmatcher har erbjudits på många av Sveriges padelcenter länge. Men nya padelgoTV sticker ut från mängden med en högkvalitativ streamingtjänst som är helt gratis för användaren.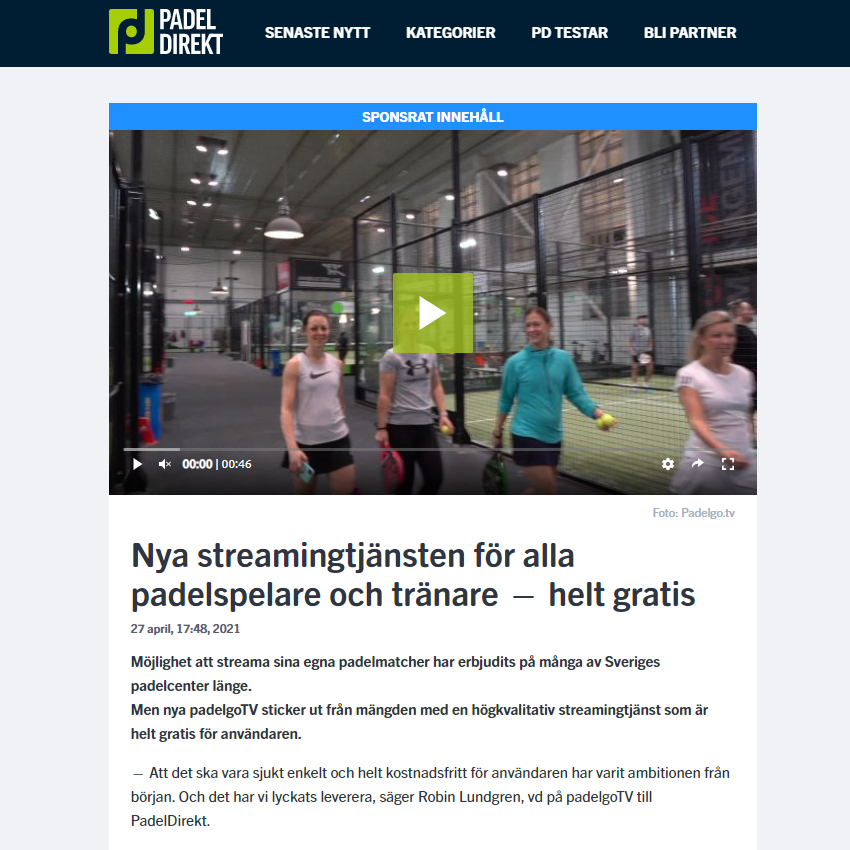 star
Padelgo lanserar nyheten arena-TV / padelfeber.se
Padelgo blev snabbt populärt bland spelarna. Men nu vill streamingtjänsten bli mer attraktiv även för padelcenters. Därför lanseras nu arena-TV.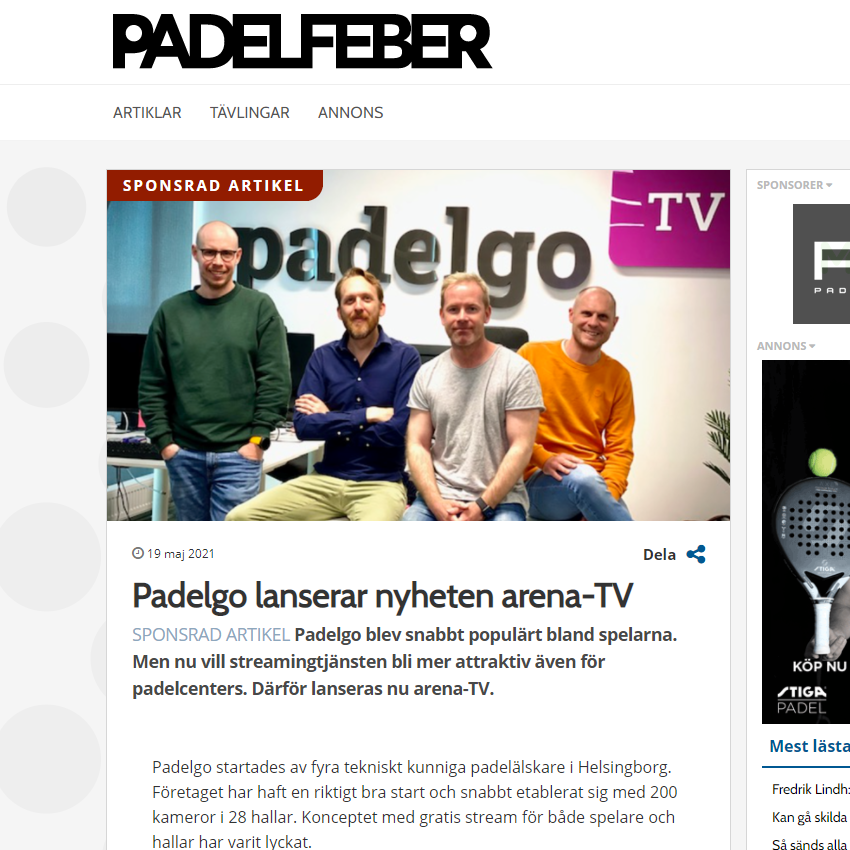 star
PadelgoTV lanserar nya funktioner — se dig själv spela på ditt padelcenters tv-skärmar / padeldirekt.se
PadelgoTV har fått en flygande start och sänder nu från 250 banor runtom i Sverige. Lagom till att mindre tävlingar börjar tillåtas igen lanserar streamingföretaget en ny tjänst. Arena-TV kommer att visa relevant innehåll på hallarnas tv-skärmar, säger padelgoTV:s Magnus Weidmar.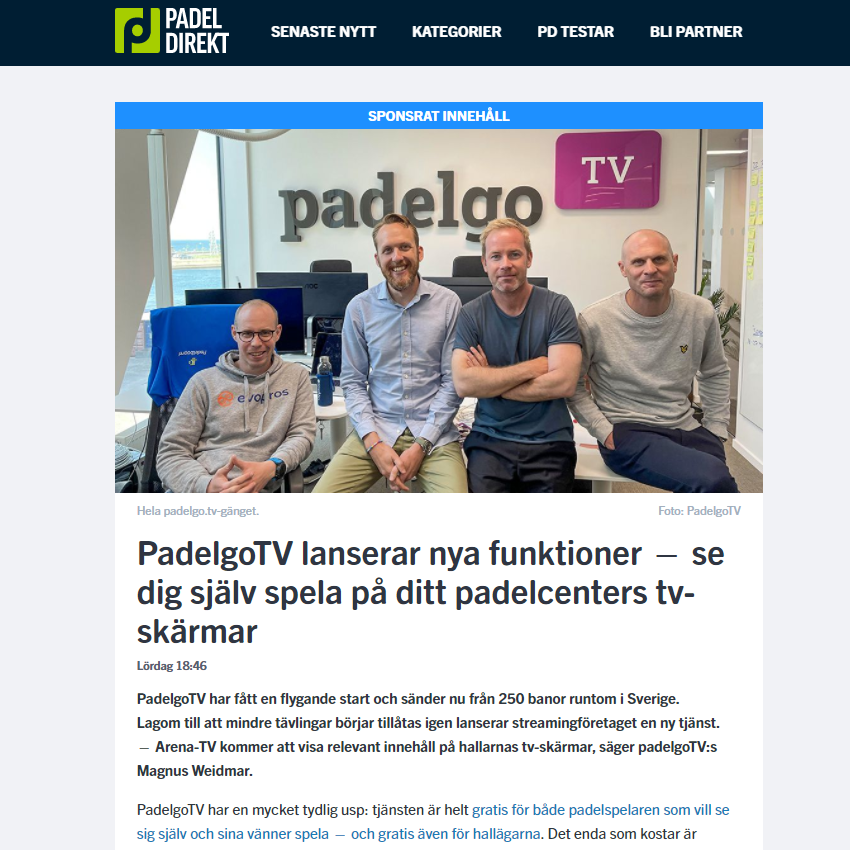 star
HIF-chef lämnar – hoppar på padeluppdrag / hd.se
Robin Lundgren, administrativ chef i HIF, lämnar sitt uppdrag efter två och ett halvt år. Det skriver klubben på sin webbplats.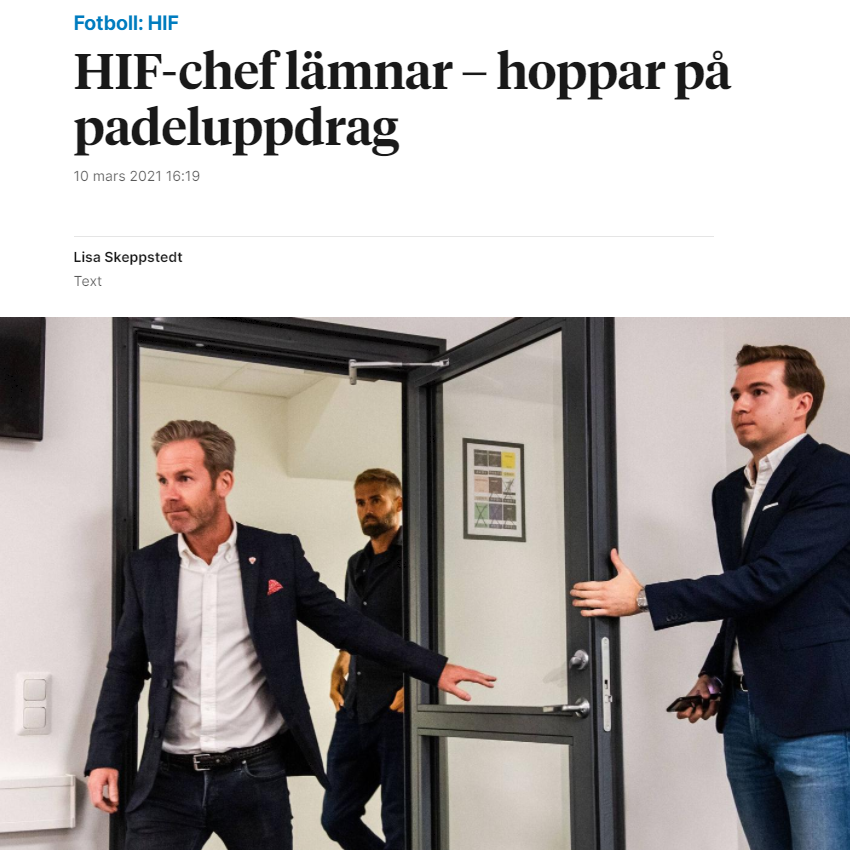 trending_up
Stand out from the competition
By offering padelgo.tv in your arena you will stand out from the competition. Padel players love to stream, share it with friends and analyze their game. Our testimonials show that a majority padel players in the age group 18 - 45 prefer arenas with free streaming enabled.
face
Engage your players
By offering a free streaming community to your players you will raise their engagement adding one more level to the game of padel. This will naturally result in more players that play more padel.
favorite
Build your brand
As a brand offering free streaming to the players in your arena you will not only gain brand goodwill but also organic brand exposure in social media when players share their games and highlights with friends and opponents.
visibility
Partnership exposure
Padelgo.tv offers multiple solutions for you to expose your arena partners both in the arena and in the digital space. This makes your partnership offers even more attractive.
live_tv
Broadcast divisions and events
By using Padelgo Studio you can broadcast and manage all type of competitions, games and even add commentary to the streams. This is a great way of building your brand, partnership exposure and raising player engagement to your arena.
emoji_events
Help your players to advance
By offering free streaming in your arena you will be a key part of helping players take their game to the next level. This is why a majority of players will choose to book padel in arenas with free streaming over none or paid streaming capabilities.